Famous Building popup card with its eye-catching, delicate shape, meticulous attention to detail will attract people from the first time. It is also a meaningful gift for your friends and family. So what does the Famous Building popup card mean and where to buy reputable popup cards? This is a question that has been and is being asked by many people today. For a closer look at the unique and eye-catching design of this popup card. We will reveal it to you through the article below!
What does the Famous Building popup card mean?
Nowadays, many countries have many historical and cultural structures that are symbols of the city or country. Famous Building popup card will keep the memories you want to give to your loved ones. It will be a great choice for you when you want to give gifts to loved ones.
Famous Building popup card is used to store and convey the feelings of the sender to the recipient. Each card will simulate famous works in the world. In particular, with its beautiful and meticulous design, it will help you visualize a unique and famous project. It is also a means for you to express your appreciation to the recipient. You can also express your feelings through the card, remove all distances, connect love.
Famous Building popup card is not only a gift to show affection but also used to promote the brand. Introduce domestic and international works to recipients. The card has a unique and novel design, accompanied by a meaningful wish that the sender wants to give to the recipient. It will bring good things and to everyone, spread love.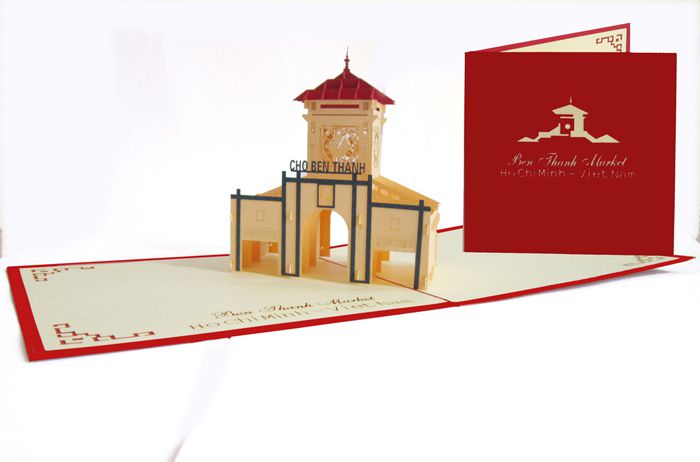 Where to buy Famous Building popup card
On the market today, there are many units providing  Famous Building popup card. So, you will have many options according to your own needs. However, many customers also cannot avoid buying poor quality products because of the low price and the wrong design.
And one of the units that specializes in providing the famous floating card line that we would like to introduce to you is VIETNAM POPUP CARD AND HANDICRAFTS, JSC. Here, you will find many unique card templates, diverse designs made from high-quality materials, realistic images and used for a long time.
The price of the card is extremely suitable for all customers, each card bears the mark of a famous project in the world. The meticulous details will be created by the company's artisans in the most delicate way. The paper material is also guaranteed to be of the highest quality currently imported from Korea, Italy, and Japan, which will bring professionalism and a longer use time, without fading.
Customers can freely choose from cards themed with famous landmarks in the world at VIETNAM POPUP CARD AND HANDICRAFTS, JSC today. If you still do not know which type of  Famous Building popup card to choose, please contact a consultant for quick support.