In everyone's life, there are moments of sublimation and joy such as when you get married, when you take office, when you defend your thesis,… Such happy occasions would be incomplete without a pop up flower card for the recipient. Pop up cards with congratulations and cheers will make them much happier. Here are some successful pop up flower card templates you should choose. It makes it easier for customers to choose the right product.
The meaning of pop up flower cards to celebrate success
We all know that each type of flower has its own meaning, suitable for different occasions. To congratulate someone on some achievement, people often use the following pop up flower cards:
Pop up flower card rose
This flower is popular, suitable for many occasions such as congratulating the opening ceremony, happy birthday, marriage anniversary,… Congratulating a person's success can use red roses, yellow roses or flowers. Pink.
Therefore, your card can be diverse and rich in different colors.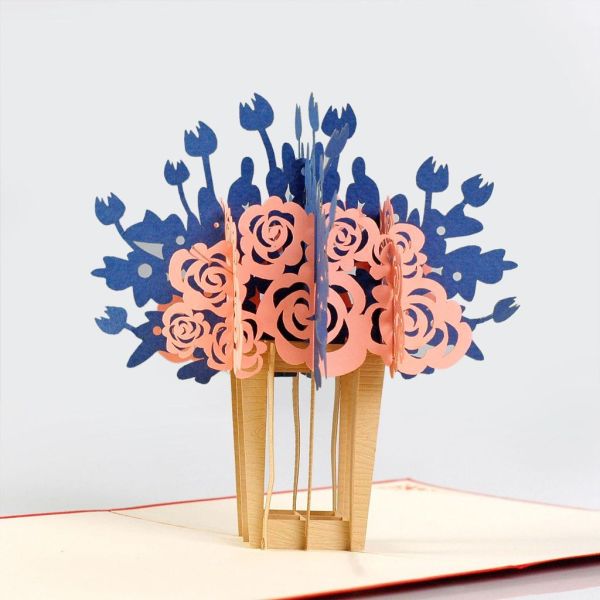 Pop up flower card sunflower
"Towards the sun", towards success is the meaning of sunflowers. A pop up flower card sunflower will be a meaningful spiritual gift. It recognizes the efforts and best efforts of your relatives and friends.
It is also a source of motivation for you to encourage the recipient to move forward. Sunflowers are brilliant, dazzling as if expressing the resounding success of the recipient.
>>> XEM THÊM: What factors help you have the best pop up birthday card?
Pop up flower card orchids
Orchids are a symbol of wealth and prosperity. It is very appropriate to gift someone on the occasion of their great achievement. Orchids have many types, especially Phalaenopsis orchids are increasingly loved by many people.
A pop up card with colorful orchid petals is really great for the recipient. It is like wishing them to become richer and richer.
Pop up flower card lily
The luxurious beauty, the radio is what people think of the lily. Therefore, lilies are often used to give people on special occasions such as inauguration ceremony, doctoral thesis defense ceremony, opening ceremony, inauguration ceremony, …
This flower has a simple but very special color, it impresses the recipient when seeing. Especially through meticulous 3D design will make it more amazing.
Pop up flower card tulips
Tulip is a flower from the Netherlands, tulips have a strange beauty, causing excitement for many people. The flower is resistant to cold weather, so it shows resilience and indomitableness.
Its special beauty is also a special greeting to the recipient.
Where is the best place to buy pop up flower cards?
There are many types of pop up flower cards on the market, but the recent trend is that many people choose pop up flower cards. It fully expresses the meaning that needs to be expressed.
In addition, it also creates sympathy by unique designs. The beautiful flowers are also in bloom. The meticulous floral design and depiction of the flowers will leave viewers impressed. It is completely unmistakable with ordinary cards.
Pop up flower card produced by VIETNAM POPUP CARD AND HANDICRAFTS, JSC. It has always won great love from consumers.
If you are in need of 3D printing or need advice on pop up flower card templates. Contact the company for support and questions.
Pop up flower cards are confidently the most beautiful and perfect cards. They help you to express deep meanings and feelings.