Easter is a very important day especially for Christians. Easter is also a festival of hope because it is time for spring to return to all species. It is also the right time to send wishes to friends, wish them new things, success in work as well as in life. Wish we could also spend time together to celebrate Easter. But don't forget to choose a pop up easter card as a gift for someone you love.
Easter is a very special day so give a pop up easter card
The symbols of Easter often appear on the pop up easter card
Easter is symbolic of so many things that it comes in many different shapes. Each card brings a separate meaning that you can send to the recipient. So there are icons, let's find out through the information shared below. 
Easter Egg Hunt games
They are often held by churches on Easter day, in which the organizers bring Easter eggs hidden around the yard for people to hunt.
We can see that the egg is a symbol of rebirth.
The Easter Rabbit
It is a rabbit with colorful colors that is also a symbol of Easter. Perhaps because rabbits are famous for giving birth.
The symbol of the Resurrection is the constant rebirth in us, the old man dying and the new being born, we are always maturing, renewing, or more, and better.
Easter candles
Also a very familiar symbol on this holiday, the image of Easter Candles with warm fire, providing light and protection. The Easter fire is also seen as the image of lighting up a series of days and nights and a lamp that enlightens them to the right things and peace.
Before the beginning of the Easter Mass, priests will do a fire ceremony around the cathedral, the parishioners will also light candles in their hands together.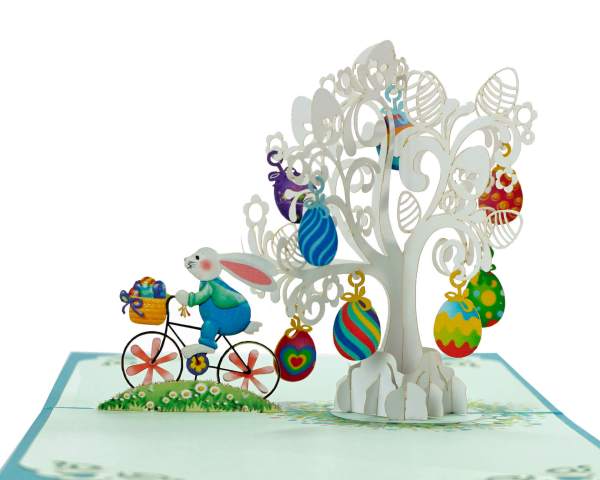 Easter Bells
From Good Thursday to Easter, church bells are not allowed. At the Vatican, located in the middle of Rome, Italy, the symbolic bells are brought to Rome and blessed by the Holy Father. When they returned, they were filled with Easter eggs and on the way, spread to children and adults. 
Good wishes when writing on pop up easter card
When writing cards, do not write superficially, but choose meaningful wishes to send to everyone.
Happy Easter, bright, joy and hope are fulfilled. Happy Risen Christ!

Easter enlightens the soul and home will bring warmth, happiness and health to you, and God protects you!

Whether by the miracle of Easter to receive the spirit of increasing inner peace, the power to act in truth and perfection.

Divine Light can illuminate the mystery of Life to your precious moment, showing the way to awakened souls!

The Lord in Easter will bring you all the best in the world through the sacrifice of Jesus! God is always with you, your whole life, always living in each person's heart! – The Risen Christ!

This year the bunny comes to bring you gifts and don't forget to send a hundred thousand kisses from me in this greeting!
On it are some Easter symbols as well as wishes to write on the easter pop up card that you may be interested in. Hopefully through that you will know more meaningful gifts.