The wedding invitation card is an indispensable thing in every couple's wedding. To own a perfect card, in addition to paying attention to the content in the card. You also need to consider many factors to get a desired product. Currently on the market there are many templates of wedding invitation cards, some information below will help you choose a card easier.
Notes on pop up wedding invitation cards you should not ignore
According to the experience of some couples who have made pop up wedding invitation cards, the choice of printing address and wedding invitation design is not to be missed. In order to save money in the best way, with the least amount of time, couples should note a few things below: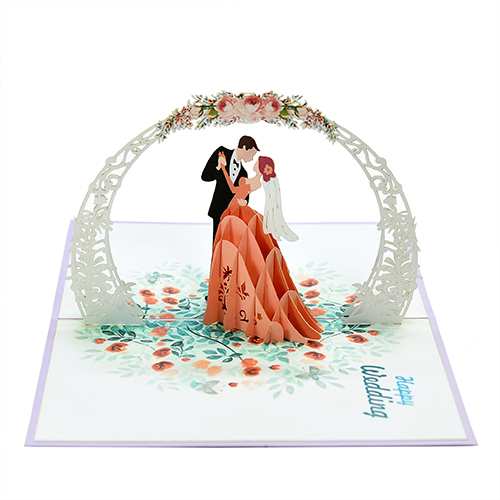 Time to order wedding invitation card
Before ordering the wedding invitation card, you need to make a guest list. Normally, the bride and groom will order 20-30 cards to spare in case of errors in the process of making cards. Or write mistakes, generate additional guests. You should order wedding invitations at printing facilities with suitable printing prices but still ensuring quality to save costs. You should book your wedding invitations 2-3 months in advance.
Closing order quantity
The number of print orders will directly affect the cost as well as the wedding budget. So you need to check the number of visitors to know the number of printing. Avoid printing too much that is wasteful.
Choose your wedding invitation card by style
Pop up wedding cards with traditional or modern patterns, different cute, unique or luxurious styles.
Choose a wedding invitation card according to quality criteria
With modern printing technology, today's card templates are of high quality, carefully selected. However, depending on your specific requirements, you can request to make cards with more sophisticated patterns, manufactured from higher quality materials.
The most beautiful wedding invitation card design address in 2021
Everyone wants to have an impressive wedding. Surprise your friends and relatives with unique and attractive 3D wedding cards. VIETNAM POPUP CARD AND HANDICRAFTS, JSC is one of the powerful 3D Pop-up Card brands. The company is always at the forefront of designing, manufacturing and supplying embossed cards.
This address always wants to send the message "small card, but with great meaning". The company has a lot of different themes such as Wedding cards, birthday cards, Christmas and New Year cards, thank you popup cards, love popup cards, etc.
HMG POP offers customers a variety of beautiful and diverse floating wedding card options. You can choose from pre-made card templates or order your own design. All HMG POP pop-up card products are registered for exclusive protection. Along with that, you will receive professional customer care service from the unit. Each customer when placing an order is guaranteed information. In particular, HMG PoP will not use the same model designed for different customers.
Choosing a beautiful wedding invitation card will make everyone more amazed before your wedding. So please pay attention to the information shared above to get the most meaningful card.