Beautiful flowers are a symbol of vitality and a bright future. Not only women but everyone has a love for flowers. Therefore, 3D popup Flowers cards are a great gift in many cases. The recipient can feel the vitality and intense affection you want to send to the recipient. So, should you give away 3D popup Flowers cards? Read the article below to better understand the issues you wonder about!
3D popup Flowers cards are great or not?
3D popup Flowers cards are great gifts that you can give to your acquaintances in any case. The flowers are all towards the good, each flower has a different meaning. You can rely on the meaning of each flower to give to the recipient.
The flowers are also beautiful and easy to use. 3D popup Flowers cards are gifts that everyone loves. People always love beauty and every flower is beautiful.
In addition, popup Flowers cards are always meticulously designed by professional artists. All images and decorative motifs clearly show the effort and time of the person who made it. The flowers decorated on 3D popup Flowers cards will come to life.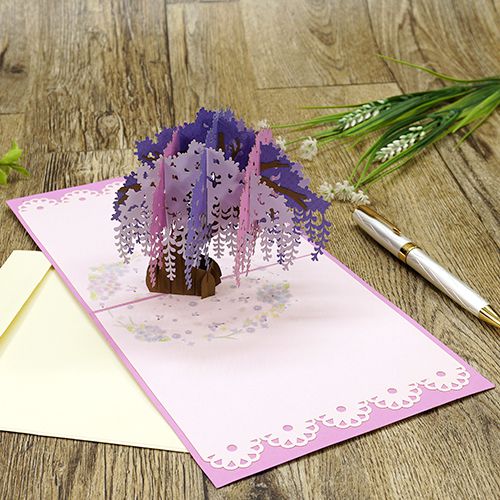 When can you give 3D popup Flowers cards?
You will be surprised to know that 3D popup Flowers cards can be used in any situation. As mentioned above, each type of flower has its own meaning. So you just need to pay attention to the flower you want to give and choose it for the right occasion.
Gift 3D popup Flowers cards on birthday
Birthday is a special occasion, 3D popup Flowers cards are very welcome in birthday parties. You just need to choose the type of flower that the owner of the party loves. Your popup card will make a great and impressive gift.
Gift 3D popup Flowers cards at the wedding
Wedding is an important day, and this special day cannot be without flowers. You can choose rose cards with gifts. Surely, 3D popup Flowers cards will make the bride and groom cheerful and happy.
How to own the best 3D Flower cards popup?
We already know what makes a quality 3D Flower card popup. So to own a product that converges the above factors, you need to choose a reputable and quality supplier.
Come to VIETNAM POPUP CARD AND HANDICRAFTS, JSC. Customers will be delighted to choose between thousands of high-quality, high-quality 3D popup Flowers cards. Products are made from imported paper with high durability, less water absorption, limited mold, durable over time. As a result, you can keep it as a lasting memory.
Customers will be advised to choose a pop up card template to suit their needs. Along with that, there are diverse services included such as card design on request, card gifting service on your behalf. Thanks to that, the most demanding customers are also satisfied with the service of the unit.
In addition, the price at this address is quite good, so you can choose to buy in bulk without having to worry about the price. With high quality, reasonable price, this is always the first choice of customers today.
With the above information, we know the attractions of beautiful, quality 3D Flower popup cards. An important factor that consumers need to pay attention to when choosing to buy a product is the delivery address. Find a quality supplier to buy products.