In every holiday, celebration, birthday, people often give each other cards with meaningful wishes. The card has many different templates and themes such as greeting cards, birthday cards, thank you cards, etc., suitable for all occasions of the year. Let's find out with HMGPOP through today's pop up greeting cards.
1. Learn about cards
A card is a printed publication, designed with the purpose of sending a certain message, providing information, .. to the recipient, the card shows sincerity and special meaning to the recipient.
Each type of card will have a different meaning and purpose, can be sent separately to an object or can be a collective. For example: When you organize an important event that requires the presence of other invites, in addition to sending invitations online via email, facebook, .., you can design invitations to invite to participate in the event. to sue. At that time, the card brought the most solemn and luxurious to the guests.
Cards are used very popularly today, we easily come across cards at events, birthday parties, congratulations, holidays, …
Pop up greeting cards come in many different types, including:
Wedding invitation
Reply card
Thank you card
Greetting card
Birthday card
Graduation card
2. Types of greeting cards today
Popup Greeting cards are divided into 4 different occasions:
Christmas greeting card
Every Christmas, souvenir shops, stationery stores or supermarkets will display a lot of Christmas decorations including cards with the design of pine trees, Santa Claus, hats, etc. The card will be accompanied by gifts, flowers to give to relatives, friends and lovers.
New Year popup greeting card (New Year greeting card)
At the beginning of the new year spring, red packets, apricot flowers, peach blossoms, greeting cards are indispensable things. The purpose of the New Year greeting card is to send to relatives and friends good and meaningful wishes, pray for a peaceful and lucky new year for the recipient. Tet cards are used both at home and abroad.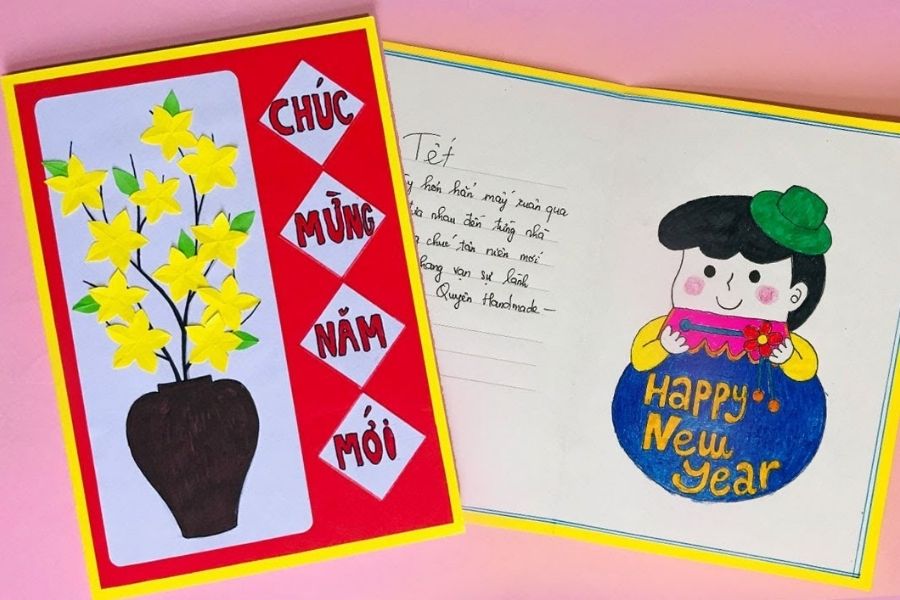 Birthday popup greeting card
Birthday is an important and special day for each of us. Giving each other gifts, cakes, fresh flowers, wishes, birthday cards is an indispensable thing on a birthday is a very meaningful and happy thing. Birthday greeting cards are sent with the wishes and affection of the giver for the recipient.
Other popup greeting cards
Father's Day, Mother's Day, Women's Day, events, etc. are occasions to give greeting cards to express your affection and concern for the recipient. You should choose the designs and textures of the cards to suit the situation, age and preferences of the recipient.
3. Business address and beautiful and quality card design
3D cards are becoming more and more popular and are chosen as gifts for special occasions. 3D cards are not only creative, breaking out of the traditional mold that ordinary cards have. When receiving a 3D card, the recipient will be surprised at the miniature images inside the card that suddenly appear, giving a realistic and beautiful look. Choosing 3D cards for gifts is a great choice.
Today, there is no shortage of reputable 3D card companies in the market. HMG is proud to be one of the leading units, a pioneer in the production and distribution of 3D card products. HMG always ensures to put customer satisfaction first. HMG provides you with the most beautiful 3D card templates, quality from design to reasonable price. HMG's 3D card making materials are all imported from abroad such as Germany, Italy, France… to ensure that the card is always firm, not broken during transportation. The 3D card model at HMG is also very unique, catching up with the trend, giving consumers more choices. HMG provides 3D cards for every occasion of the year such as New Year greeting cards, Vu Lan Mother's Day cards, 3D Christmas cards… HMG accepts all ideas of customers and makes the prettiest cards. . The staff at HMG are always enthusiastic, attentive and professionally trained, providing the best shopping experience. Thanks to the application of advanced laser cutting technology and a skilled creative team, the most satisfactory card designs are guaranteed.