The magnificent and splendid castle often appeared in her childhood memories, in the stories she often told. Or famous buildings are sometimes the great dream of many people. Each pop-up card has a different meaning. So how is the Famous Building popup card created to become a meaningful gift?
What are pop up cards and where did they come from?
Pop up cards originated in Japan, were introduced to the West and appeared for more than 7 years. At first, it was just a small group of friends who shared the same hobby of making cards and loved Japanese paper art. But in recent years, this type of card has been sought by young people. Not only do you stop at learning unique card templates, but many of you also make pop up cards yourself to give to relatives and friends.
Pop up cards have many themes, from simple familiar topics such as nature, animals… to more complex topics such as architecture, painting, folk… They all become more vivid and true on this line of cards. Especially the Famous Building popup card will be a meaningful gift that many people will find out. 
Steps to make Famous Building popup card
In order to create a card as I want, it also requires research. You can apply the following steps to create a meaningful product made by yourself.
Step 1: Print the template, then place it on white paper and pin it in place. Use a sharp knife to cut along bold solid lines so that the whole white paper is cut, for thin broken lines, slightly vertical to create creases on the white paper below.
Step 2: Meet the paper you just cut the castle shape according to the lines created in step .
Step 3: Fold a sheet of light colored hard paper in half as a card cover, then paste the cut castle image on it.
Step 4: Use a ruler and cutter to cut the excess white paper inside, then adjust the folds.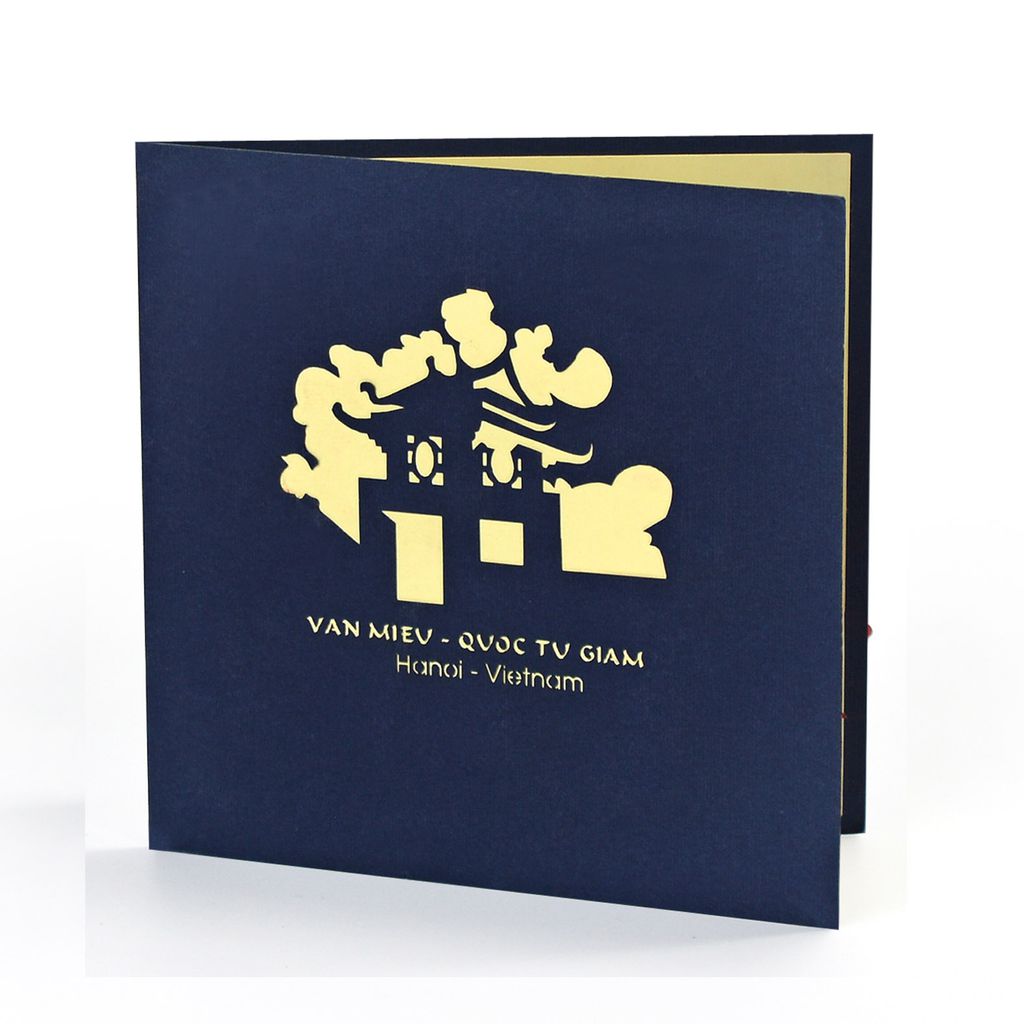 How to make the Famous Building popup card stand out more
Of course, when making pop up cards, visual effects are the most important. The images are embossed when the card is folded. Combining images with harmonious colors will create the most beautiful cards.
You can choose featured images of a building you love. These images always bring great effects to send wishes to the other party in the best way.
One more idea: you can make quality building pop up cards. We can incorporate light bands that are small flickering lights around the relief that will be very impressive.
The light should choose colors that make the card more vibrant and eye-catching. Those are the colors of red, yellow, white… If you are a skillful person, you can also integrate light to create impressive text. 
If you don't have time to make the Famous Building popup card, please refer to and contact VIETNAM POPUP CARD AND HANDICRAFTS, JSC. The company with a creative staff with a high aesthetic angle will bring you the most attractive suggestions. Here people can find their favorite cards with different content. This is a site that offers a variety of pop-up cards that everyone loves.