The 3D popup birthday cards are known as a gift that, although not of material value, has a great spiritual value. It brings joy to everyone, it helps the feelings between people closer and closer. Through this gift, everyone can express their heart and love for their loved ones. The information shared in this article will help you know the meaning of 3D popup birthday cards as happy birthday gifts. 
Meaning of 3D popup birthday cards
When using greeting cards, keep in mind that your goal is not to simply send out greeting cards, but also to contain your sincere feelings and feelings you want to convey to the recipient. The fact that the recipient will feel happy and receive your greeting card with a surprised, surprised and interesting attitude when opened will show your dedication to invest effort and time to buy a most meaningful and unique greeting card for them. They will appreciate your worth and sincerity to them and in return, they will cherish and cherish your card more.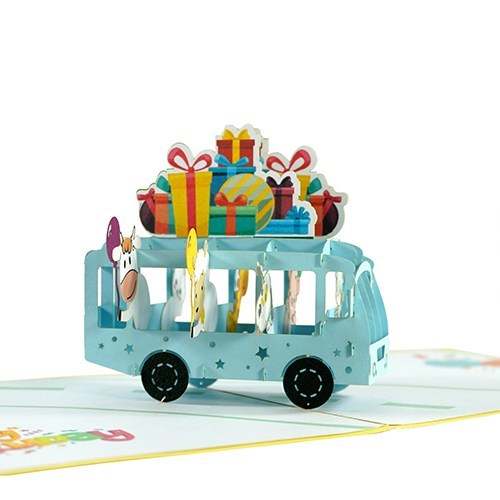 A regular card sent on the right occasion will make them happy, but to truly surprise and impress them when they receive the gift, you need to choose a 3d embossed card instead of other current greeting cards. .
When you choose to buy 3D embossed cards yourself, you will also be excited and surprised with this gift, and you can imagine the surprise to the delight of the recipient when they open the card. to view and read your wishes written in it.
You are completely confident to present a floating card expressing love on Valentine's Day with a heart shape or a picture of a fresh flower; You can increase your bonding, unite and win people's hearts by giving friends or relatives or colleagues floating cards on the occasion of halloween and also to bring joy to everyone.
Imagine a car about to be brought to the market, real estate projects will be designed and reproduced by us in real proportions and displayed on a floating card model in an impressive way and unique for you to confidently introduce and give to both traditional and potential customers. 
Some information about HMGPOP
Viet Nam Popup Cards And Handicrafts Joint Stock Company is proud to be the leading supplier of 3D popup cards in Vietnam. 
We always listen to the needs of our customers, giving the first priority to the reputation and quality of our product and service.
Competitive Advantage
We have a design division with a team of highly qualified staff, meeting all the diverse and complex design needs of customers.
Product Quality 
With the motto that product quality is the most important criterion, each card, after assembled, will be thoroughly tested before packaging.
Process of Packaging
With more than 7 years of experience in setting up and operating the packaging process, we have the best way to minimize product damage during transportation.
Customers Care Service
If any card is damaged due to manufacturing errors, we will make new cards for customers. If product quality is affected during shipping, we will always be with customers to solve the problem.
Hope that through the information shared above will help you know the meaning of giving the 3D popup birthday cards.