Previously, pop-up cards were only available in certain countries around the world. In recent times it is spread and used more widely. The design of these cards is extremely modern and eye-catching. Pop up card can become a meaningful gift for those you love. This article will help you to have more understanding about it.
There are many kinds of meaningfulpop-up cards
Why should you choose pop-up cards for gifts?
Today on anniversaries, love days, thanks days, birthdays, or simply a special day. Everyone wants to give them the most meaningful and impressive surprise gifts. No need for too many expensive gifts, just a pop-up card is enough to make the recipient happy.
Not only showing the sincere heart, trust and gratitude of the sender for the receiver. They also leave a deep and unforgettable impression in the heart. Therefore, it has not been long since its launch on the market, but the pop-up cards have left a deep impression and received love.
If before, you were still shy and did not dare to express your feelings to the person you love. Pop-up cards will reveal those things on your behalf.Everyone who looks at them is extremely pleased with these gifts. Inside will be details about the special days that people will give gifts. 
For example birthday cakes, hearts, grass, flowers, Santa Claus and many more images. Through those cards, you will write wishes and thanks. Besides, it can also be words of love from the heart. From these meaningful sayings, the receiver will feel the sincere heart of the sender. Every love story begins, they will love you more.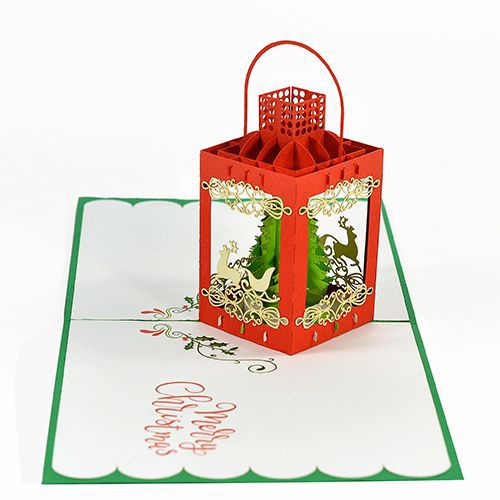 Choose the most suitable pop-up card
What are the features of a pop up card?
The purpose of the pop-up card is to highlight the details that bring an interesting feeling to the recipient. Therefore, when designing a pop-up card, the beautiful element must be on the top.
There are two main types of pop-up cards: 90-degree vertical cards and 180-degree lying cards. Both types have 1 thing in common that is the formula to make extremely complex works requires more elaborate investment. Besides, the box folding structure also includes a combination of many small details in a floating cube.
Back in the day, all pop up card were made entirely by hand. From the steps of trimming the smallest texture to the steps of assembling the details together to complete a card. Because there is no modern machinery and equipment. However, they share one drawback. Those are all products that are not sophisticated and have a variety of designs and almost only have a certain design.
However, with today's age of technology, creative work and card design pop up. There has been effective support of advanced laser cutting technology. Laser cutting machines used in card production are hundreds of times more accurate than traditional card making methods. 
Currently, Vietnam Pop up Card and Handicrafts Joint Stock Company also provide pop up card templates. There are a variety of designs, colors, and sizes. If you are looking for a meaningful gift product, you can contact us here.