With pop up flower cards with passionate messages, hand in hand, happy together, thank you love or welcome spring… They are all meaningful gifts and bring happiness to the recipients. So with the same flower but with different colors, is the meaning different? Join us to find the answer right in this article!
Meaning of pop up flower cards
Needless to say, the beautiful flowers blooming with fragrance are very familiar to people. But do you really know all their meanings?
Giving flowers has long been an important part of communication and maintaining relationships. You can see people giving flowers to each other very often, especially to relatives or lovers to show affection. On holidays, flowers are said to be an indispensable gift.
Instead of giving fresh flowers at risk of wilting or spoiling. These pop up flower cards are really a great choice. It is a flower that lasts forever. Like the love you have for the recipient.
The color of the auspicious flower in the pop up flower card
With each different color, auspicious flowers will bring a separate meaning. Here are the meanings of some popular auspicious colors in pop up flower cards:
White auspicious flowers
White auspicious flowers mean an earnest, gentle and deep love, expressing a pure and pure love.
Purple auspicious flowers
Purple is a typical and popular flower color of purple auspicious flowers, meaning purple auspicious flowers represent joy, happiness and fulfillment.
Red auspicious flowers
The red auspicious flower signifies a bright, peaceful and good future
>>> XEM THÊM: The special meaning of the love pop flower cards you should know
Green auspicious flowers
The green auspicious flower will symbolize money and wealth. That's why pop up flower card greenery is often used as a gift on opening occasions, birthdays,…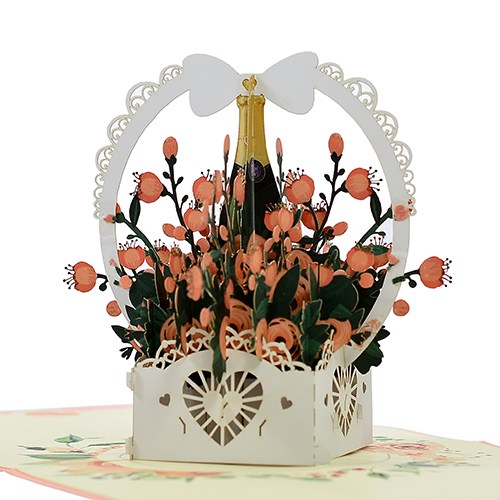 Orange auspicious flowers
Orange auspicious flowers mean a happy, joyful life. This pop up flower card will bring the recipient happiness and joy.
Where is the best place to buy pop up flower cards?
There are many types of pop up flower cards on the market, but the recent trend is that many people choose pop up flower cards. It fully expresses the meaning that needs to be expressed.
In addition, it also creates sympathy by unique designs. The beautiful flowers are also in bloom. The meticulous floral design and depiction of the flowers will leave viewers impressed. It is completely unmistakable with ordinary cards.
Pop up flower card produced by VIETNAM POPUP CARD AND HANDICRAFTS, JSC. It has always won great love from consumers.
If you are in need of 3D printing or need advice on pop up flower card templates. Contact the company for support and questions.
Pop up flower cards are confidently the most beautiful and perfect cards. They help you to express deep meanings and feelings.