On Christmas day, we see the atmosphere everywhere becoming more vibrant with bright lights on the pine tree and Christmas music resounding everywhere. Especially on this day, it is indispensable for meaningful gifts. So do you have an idea for a meaningful gift that makes the recipient excited? No need to be too fussy, just choose beautiful pop up christmas cards and write your wishes in it to make the recipient extremely touched.
Instructions for choosing Christmas pop up cards
Floating Christmas cards are an increasingly popular gift to give on Christmas Day. However, in order to choose the right gift, meaningful and express the giver's heart, there are a few points to keep in mind:
Choose the pop up christmas cards template suitable for the recipient
There are many different 3D Christmas card templates and when choosing a card the first important thing is that you need to determine the object to which you will give the card. See who you give the card to, how the relationship is to choose a Christmas card with the right image, content and wishes.
If you are friends or colleagues, you can give Christmas cards with symbolic images such as pine trees or Merry Christmas wishes. If it is a gift for children, choose a card with funny pictures with many lovely animals or the theme of Santa giving gifts. And if you give it to your lover, you can choose a card template with a couple who are giving each other a loving gesture.
Choose the right card size
Another thing when choosing a floating Christmas card that you need to pay attention to is the size of the card. Usually the card will come with gifts on Christmas Day. Therefore, it is advisable to choose a card that is smaller than the gift to show sophistication and not overshadow the accompanying gift.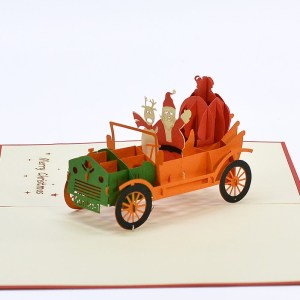 The most popular pop up christmas cards
There are many different pop up christmas cards templates to satisfy the needs of users. However, they all contain images that represent this great holiday.
The pop up christmas cards couple boy and girl
Have you chosen a 3D card to give him/her on Christmas day yet? The Christmas greeting card template with the image of a couple kissing and the words Merry Christmas will definitely be the most perfect gift and express the feelings of two people. These pop-up cards are sure to make the recipient extremely surprised and loved.
Pop up christmas cards with leaf wreath
The Advent wreath is a circle made of green branches and leaves that is often placed on a table or hung high for all to see. Trees are often decorated in parties.
The round leaf wreath represents the eternal character and endless love of God. Green represents the hope that the Savior will come to save people. This is the most prominent symbol of Christmas. These pop-up cards with images will remind the recipient of a warm Christmas. This is also a symbol of wishing them happiness.
Pop up christmas cards with Santa Claus
Santa Claus is definitely a character associated with everyone's childhood. His image in the card recalls a merry Christmas season.
The card with the image of Santa Claus also symbolizes the wish "Santa Claus will bring many gifts for you". Surely the recipient will be very pleased with this gift.
Hopefully, through the above sharing, you will choose beautiful pop up christmas cards to give to your loved ones and special people in your life.