A beautiful little card will contain many special meanings for the giver. Especially in a couple's love, giving each other cute little cards on anniversaries will strengthen the relationship. However, in order to choose the right card, there are also many notes that the person choosing the card needs to pay attention to. Here is some notable information for everyone when choosing a love popup card.
Things to keep in mind when choosing a love popup card
When choosing a love card, you need to pay attention to a few things to choose a beautiful and unique card template for the recipient. Only then can the recipient feel the feelings you want to convey in each love popup card.
Pay attention when choosing card material
Card material is very important when buying a card to give to someone you love. Good card material, made from high-quality materials, will confirm the value of the card as well as increase the elegance, expressing all your feelings for the recipient.
You should choose a love popup card made of high-quality paper imported from Korea, Italy, .. to ensure durable cards and beautiful colors. This will also make the recipient get the first impression.
Choose based on the size and style of the card
There are quite a few sizes and designs of cards. Today's popular cards are square, rectangular or round, .. In addition, people can also create many more designs for you to choose according to your purposes.
With a variety of sizes for you to choose from. As a gift for your loved one, you should choose a card with a beautiful, eye-catching design that creates a highlight at first sight. For love popup cards, choosing designs related to the theme of love is essential. For example, roses or hearts expressing love are extremely necessary.
Notice the style and image of the card
Love popup cards often choose romantic styles and images, but are no less luxurious and sophisticated. The main color of the card can be red, white, purple, pink, etc. You can create your own highlight with the unique embossed images in the card, creating romance and flying. Do not choose cards that are too fancy or too colorful.
The giver can also choose cards that match the recipient's preferences. Before buying a card you can see how the other person likes the image, style and color.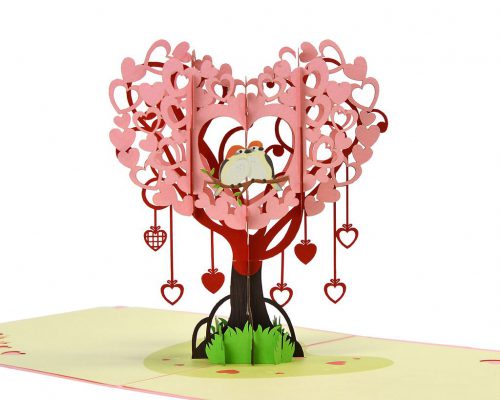 Where is the best place to buy love popup card?
Currently on the market there are many addresses that provide love popup card. Many people are really confused and don't know which card to choose. In addition, it also creates sympathy by unique designs. It is completely unmistakable with ordinary cards. However, a reputable place to buy pop up cards is quite difficult.
If you are also confused about where to find a reputable address, you can come to VIETNAM POPUP CARD AND HANDICRAFTS, JSC. Here has always won great love from consumers. If you are in need of pop up card printing or need advice on pop up card templates. A team of professional, experienced people will help you choose the most suitable card template. Contact the company for support and questions issues related to love popup card you will be supported with all important information.