1.Crafting and supplying 3D embossed paper cards
Established at the end of 2013, Vietnam Popup Greeting Cards and Handicrafts Company at that time consisted of only 6 members working together to create, of which 4 members are currently key leaders. Experiencing many ups and downs and challenges, up to this point we can be proud to be one of the top three enterprises in Vietnam in the field of manufacturing and supplying 3D floating cards.
As a private enterprise with the early days of its establishment, facing many constant fluctuations of the economy, the company has encountered many difficulties in building human resources and its position in the market. Distributing greeting cards. Developing a system from designing and manufacturing 3D embossed paper cards to distribution is not an easy task for a young business like us.
From the early days, the company only sold cards in the country to small shops and tourist resorts. But so far, with the enthusiasm and consensus of the Board of Directors, the company has built up a strong 3D Popup Greeting Card brand with more than 70 employees and many loyal customers. We have become a leading young enterprise in the field of designing, manufacturing and supplying floating cards to customers not only in the country but also in many fastidious countries in the world such as UK, USA, Germany, Japan …
All of our embossed paper card products are registered for exclusive protection, each customer when ordering is guaranteed by us and committed not to provide, not use the designs designed for the other client.
Currently, the company has built a management system with close links between departments, including: Administration Department, Design Department, Machine Room, Production Department, KCS Department and Warehouse Department. To make 3D cards, the most important and difficult stage is Design. This is the stage that determines the texture and meaning that the card will bring. With modern equipment, laser cutting machines imported from the US produce fine details and pieces of paper. Through the skillful and flexible hands and the meticulousness and patience of the assemblers, the floating card will gradually become perfect and soulful.
With the desire to send meaningful messages through the card, although small, it has great meaning. We have made floating paper cards with many different themes such as: Birthday cards, Christmas and New Year popup cards, thank you cards, love 3d cards and many other themes…
Each card has a different texture, but in general, it shows love and sincerity to the recipient. With all the passion, creativity and high sense of responsibility, we always work seriously, carefully and meticulously in every stage from design, paper cutting, assembly to packaging and shipping.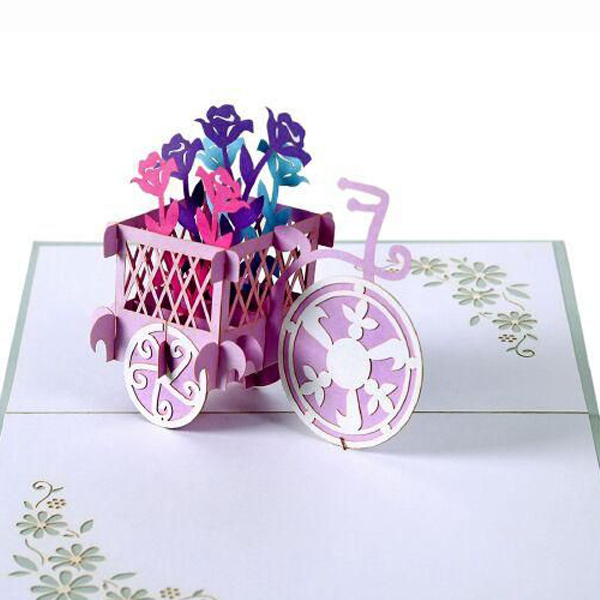 2. Why should chose Hmg pop as a Vietnam popup card and handicrafts ?
HMG is a unit specializing in providing handmade floating card services for all kinds of holidays of the year: wedding greeting cards, New Year's greeting cards… and even heart cards.
Customers can be assured of the quality when using HMG's handmade embossed card service because the time of card printing is always shortened as much as possible, ensuring the accompanying quality.
HMG's cards are made from materials imported from countries famous for their quality such as France and Belgium, so the quality and color of the cards are always guaranteed, making customers want to use the service. Handmade floating card from HMG next time.
The cost of making handmade floating cards is cheap, applying industrial card cutting, especially for customers who order 3D printed cards in large quantities, the more they will enjoy the more incentives.
As long as customers give ideas, the HMG team is always ready to serve, contribute and apply modern technology to be able to print all kinds of cards you want, diverse in designs, sizes…
HMG with the above advantages in the 3D card industry has won a lot of love and received good feedback from customers in Hanoi in particular and customers nationwide in general.
Come to HMGPOP now to print for yourself the best quality handmade embossed cards with the best quality. HMGPOP's staff is always ready to advise and serve to satisfy customers.
Contact Info:
VIETNAM Floating Cards And Handicrafts JOINT STOCK COMPANY
Address: Cell No. 03 Lot M08 Area A, Duong Noi New Urban Area, La Khe Ward, Ha Dong District, Hanoi City
Phone: 0902123668 – 0918986889
Email: Popupcard3dvn@gmail.com/ contact@handmadegifts.com.vn