When giving birthday gifts to anyone, we always want to give them the most special. Each gift conveys the feelings you want to send to the recipient. Simply the 3D popup birthday cards are enough to show love. To choose a card, you need to pay attention to many factors combined. From there, choose the best gift, let's find out through the information below.
Choose 3D popup birthday cards based on relationship
It is not possible to give parents the same gifts as a lover's gift. Each person will have a preference so you can give different 3D popup birthday cards. And from there, rely on the relationships to be able to choose which type of card is most suitable.
For a relationship that is a close friend, it is very easy to choose a card when you already know your friends too well. Close friends can share many feelings, stories and thoughts with each other. Therefore, a unique card will show the affection of two people, or a group of friends. A card with items that you both love, a photo taken together…will be your choices.
Choose 3D popup birthday cards for lovers or couples to take note. This is an extremely close relationship and mutual understanding. If you are in a relationship, you can make a unique card that shows your deep feelings for the other person. A card with an interlocking heart, a pairing ring, or a cute baby image that the couple is aiming for is a suggestion for you.
For the relationship between colleagues or superiors and subordinates, it will need to be a little more formal and formal. The unique card must come with the meaning of showing respect and courtesy. To do that, it is necessary to pay attention to the quality of the card, which needs to be high-class, expressing sincerity. You can use images such as noble flowers, or jewelry sets, candles and shimmering flowers …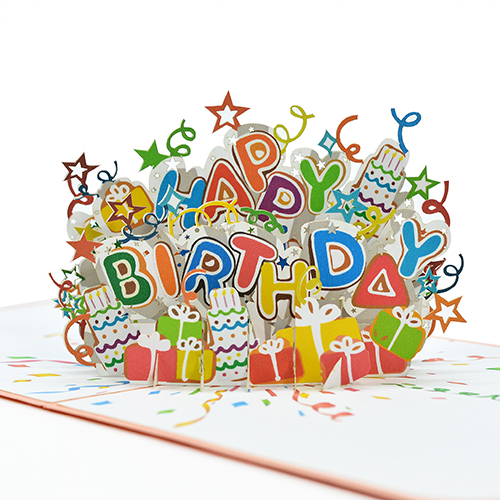 Choose a reputable address to buy 3D popup birthday cards
In addition to relying on categorical relationships to choose a card, there are many other features to pay attention to, including the address to buy the product. In order to save time, effort and money, choosing a card delivery address is essential. Only quality and reputable addresses can help you do that.
Vietnam Floating Cards and Handicrafts Joint Stock Company will help you choose the unique card you want. There are many card templates imported and hand-made by experienced card makers. Therefore, you will have an idea to make or choose the card template you want.
With a wide variety of card designs, of course, consumers can choose the card that best suits them. If you do not know which type to choose, the consultants can help you brainstorm, filter and choose the best. 
Above is some introductory information about what are the features when choosing 3D popup birthday cards and reputable product purchase addresses. Hope you will get the best cards through the sharing above.