Everyone's birthday will become a lot more meaningful if they receive gifts that they love. Unique beautiful birthday popup cards next to material gifts will bring the sincere feelings of the giver to the recipient. In this article, we will introduce you to the trending birthday popup card templates 2021!
What are the things to pay attention to when choosing a birthday popup card?
To have a unique and beautiful birthday popup card that brings joy to the recipient, you need to know the following experiences:
Choose a birthday popup card that must be suitable for the recipient
Relevancy is the most important consideration when choosing a birthday popup card. You need to determine who the recipient of the card is to have the most appropriate options.
For example, parents should give birthday popup cards with elegant colors and simple images. When giving your lover, you need to choose birthday popup card templates associated with memories as well as colors expressing love such as pink, red, purple. On the contrary, when giving children, you can choose colorful birthday popup cards, cute and funny images.
Birthday popup card material
You need to pay attention to choose cards with good material, moderate thickness, clear ink and color. You must make sure that it will not smudge, fade the textures after a time of use.
Wishes
You can choose a birthday popup card and then manually write a wish or choose popup cards that already have wishes. Attention should be paid to choosing cards with wishes suitable for the recipient to increase the value of the card.
>>> XEM THÊM: How to choose a pop up 3D birthday card to impress the recipient?
Suggest some unique beautiful birthday popup card templates 2021 for you
Popup birthday card for mom
Mother is the greatest woman in our life, a card with sincere love words will make your mother very touched. Please find reputable establishments specializing in printing birthday popup cards for more advice on unique beautiful birthday card templates for mom.
You can choose a birthday popup card with lots of flowers or patterns that are your mother's favorite things. Any card design ideas should be based on your mother's preferences.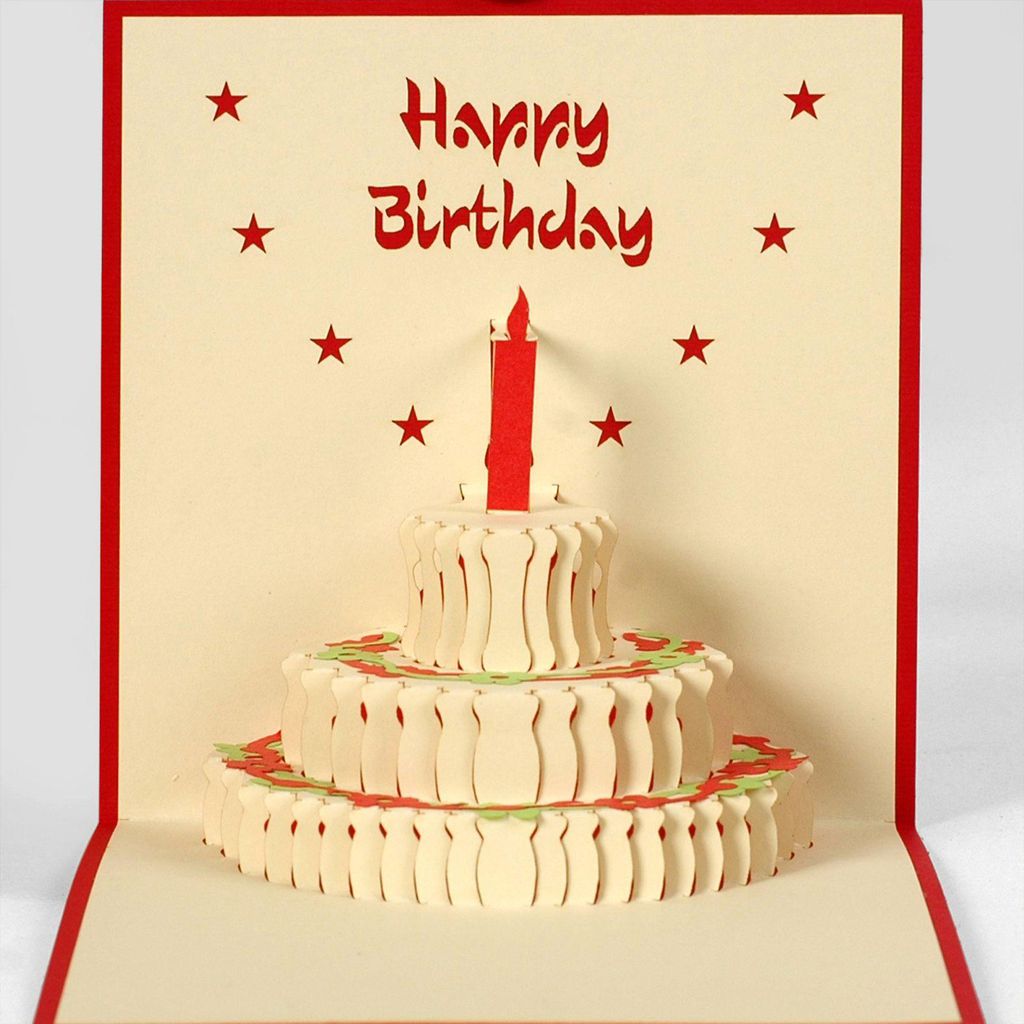 Unique popup birthday card for dad
Maybe we don't pay much attention, but dad is always a silent sacrifice to bring joy and happiness to you. So, when it comes to dad's birthday, don't forget to choose unique and beautiful birthday popup cards.
You can use your father's preference to order pop up cards at reputable establishments or choose pop up cards with warm colors.
Popup birthday card for lover
To choose a unique beautiful birthday card template that is equally delicate to give to your lover is not an easy task. You can refer to a few suggestions from us:
Birthday popup heart card

Birthday popup card birthday cake heart shape

Birthday popup birthday card with many red roses
Birthday popup card is not only a spiritual gift but it also brings a lot of value to the recipient. Any card is an expression of the recipient's feelings. You should give your loved one a birthday popup card suitable for their birthday.