Manipulating greeting popup cards with eye-catching designs, striking new designs will definitely be a particularly impressive gift for the recipient. Pop up cards are designed with many different themes to meet the needs of customers such as birthday cards, Christmas cards, New Year cards, etc. So how to have Manipulating greeting popup cards not only beautiful but also able to convey all. meaning? We will answer this question with you in the article with the sharing below.
Manipulating greeting popup cards are designed to include what types?
Before exploring the experiences to design Manipulating greeting popup cards we will find out how many types of floating cards are there? Currently on the market there are 3 types of pop up cards called corner pop up cards with embossed images shown at opening angles of 90 degrees, opening angles of 180 degrees and opening angles of 360 degrees.
The 90 degree open card has a simple design that uses cuts and folds to create the desired card.

180 degree pop up card designed with visual details and assembled into a 2D floating image

The 360-degree pop up card is the most aesthetic card because it is crafted by detailed and sharp images assembled into a 3D stereoscopic image. This type of card simulates mainly animals or buildings.
Experience in designing beautiful, eye-catching and attractive manipulating greeting popup cards
In order to be able to design manipulating greeting popup cards that is both beautiful and attractive to everyone and at the same time conveys all the messages that the sender wants to give to the recipient, it is necessary to pay attention to the following issues:
Manipulating greeting popup cards are eye-catching and sophisticated
First of all, external beauty is still the most important factor to attract and love people. So the popup card must be designed to be eye-catching, not too fussy and confusing. However, it is also not so simple.
Nowadays, card templates designed in a simple style are increasingly popular. However, simplicity here is a neat moderation and still has certain highlights to ensure a unique and sophisticated beauty.
Choose colors, designs manipulating greeting popup cards suitable for objects and events
When  designing and manipulating greeting popup cards you need to determine who you will give the card to so that you can choose a design and color that suits their preferences. Each person will have different personality traits with energetic people preferring bright colors. Introverts or people with a gentle personality, a card with elegant colors will be more suitable.
Besides, each event and each purpose will also influence the choice of colors and designs of the embossed cards. Therefore, determining these factors in advance is the way for you to design the most perfect card.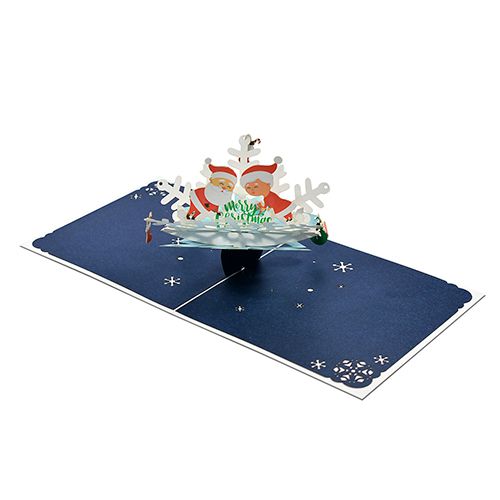 The best place to buy manipulating greeting popup cards 
Floating card products always need to be made from high quality, durable and sharp. Understanding that, this company focuses on product quality. Raw materials imported from abroad are paper and accompanying auxiliary materials. Combined with that, the unit also has the support of modern machinery, ensuring absolute accuracy, cutting strokes are not scratched …
Besides, there are also many interesting and diverse manipulating greeting popup cards for users to choose from. With a team of professional and experienced designers, we have created cards with a variety of designs and images. Therefore, when coming here, customers can freely choose for themselves the special manipulating greeting popup cards.
Besides, the unit also makes many customers satisfied when it has a team of professional consultants. They are knowledgeable about each product, can give effective advice when choosing cards for customers.
Floating birthday cards products are distributed to customers at extremely reasonable prices. Customers will receive products at a good price, minimizing costs while still ensuring a little profit.
With the above information, you probably already know why manipulating greeting popup cards  is so popular. It can be seen that this company is a professional and reputable unit. They regularly provide customers with diverse and quality card products at reasonable prices.