Easter is considered one of the most important holidays of the year for Christians. In the olden days people called this the spring festival. It is the moment when all life begins anew. Although Easter does not have an exact time every year. But on this holiday, sending each other small gifts or meaningful pop up easter cards is the right thing to do. So what kind of pop up easter cards are there?
Meaning of pop up easter card
On Easter day, people often give each other gifts that are symbolic of this holiday. Pop up easter cards with images representing Easter such as Easter eggs, rabbits, and flowers. They can bring a lot of luck to the recipient.
Easter is also a festival of hope because it is time for spring to return to all species. The Creator is so wonderful, the tree branches are bare during the cold winter, but after only a warm sunny day brought by Spring, the baby buds, or the young leaves, have been tender on the branches.
Especially, you can send the most meaningful and sincere good luck wishes to everyone. It's like a good wish for a new beginning.
Pop up easter card is also a finely crafted product. It promises to bring many surprises to the recipient. Prominent are the meticulously crafted images from professional craftsmen.
If you're worried Easter gifts won't last long. Pop up easter card will be the best choice with hundreds of different unique designs. Good quality also makes it last longer.
Outstanding easter card pop up templates
Pop up easter card with easter eggs
Eggs are the oldest symbol of Easter, symbolizing fertility. On this occasion, people often give each other colorful decorated eggs, or made of chocolate, plaster or even wool, very eye-catching, decorated by themselves to replace wishes.
Pop up easter cards with colorful easter eggs will bring a lot of luck to the recipient.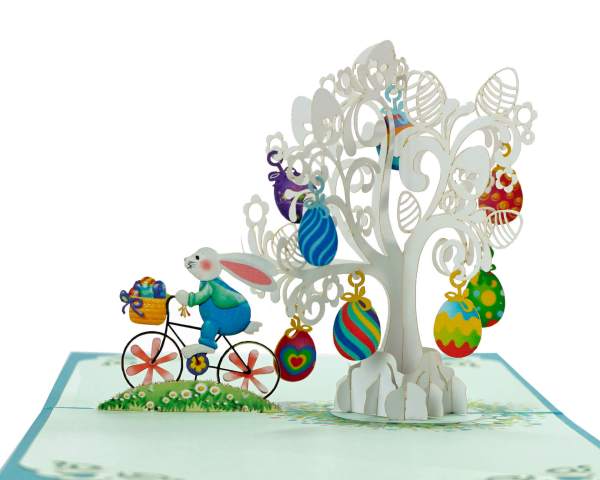 Pop up easter card with Ostara rabbit
In addition to the symbol of fertility, the rabbit is also a symbol of abundant and strong vitality. In particular, the rabbit is associated with the legend of Ostara, also known as Easter. The name of this spring goddess is used to give the name of Easter.
According to legend, each year, rabbits come down to earth only once in the spring to give lovely eggs to the people. Since then, the image of rabbits carrying eggs has become a special feature of Easter in the West.
The image of a rabbit holding eggs on a pop up easter card will be really impressive. It's like the bunny is bringing good luck to the recipient.
Pop up easter card with easter flowers
The Germans often use fresh twigs, hang eggshells, colorful paints and schocolat rabbits for children, and commonly used flowers such as narcissus, tulips, maples, daisies , dandelions,…
Pop up easter cards with images of easter flowers will bring vitality and joy to the recipient.
Pop up easter card is really a meaningful gift with many different designs. You can express your love to your loved ones through these cards. Let's spread passionate love to everyone!