There are only a few days left until Christmas – an important holiday for the followers of God in particular and the people of the world in general. On this day, no matter where they are or what they do, everyone will try to return to reunite, gather with their families to pray together for a peaceful Christmas and happy new year. Have you prepared meaningful and unique 3D popup Christmas and New Year cards to send to your relatives, friends and colleagues? Check out our suggestions below!
1. 3D popup Christmas and new year cards for loved ones
A peaceful and warm Christmas with loved ones always leaves the most deep and profound emotions in each person's heart. This is the time for you to send your love and affection to your parents and loved ones in the family with meaningful wishes and gifts.
Christmas greeting cards for lovers, husband and wife
Another Christmas season is coming, don't forget to give the sweetest and most romantic wishes to your lover or give your spouse to let him or her know that you still care, care and love them with warm heart!
2. 3D Popup Christmas and New year card to crush crush
Christmas is also an occasion when many young people choose to confess or "listen" to the person they like, wanting to take another step in their relationship. On this day, the proactive person will prepare a meaningful gift, with lovely cards containing sweet confessions for the other party, and then give them in many forms, from public to private. secret, secret. If you are not ready, you can also "make a note" of the object in advance by sending a Christmas greeting card with a little "hearing" discreet but no less romantic, maybe there is a date. Suddenly, your crush invites you to go to Christmas, what about?
3. 3D Pop up Christmas and new year card in English
Your circle of relationships may appear foreign friends, colleagues or bosses, Christmas is close to the New Year celebration of Westerners, so they attach great importance to this occasion. Therefore, do not forget to prepare Christmas and New Year greeting cards in English to send to friends and colleagues.
4.3D pop up Christmas and new year card for the followers of God
For the followers of God, Christmas (another name is Christmas of God) has a very important meaning, is an annual festival to celebrate the birth of Jesus. Therefore, the greeting card templates for Catholics often depict the image of the Christmas moment, with the desire to send the best things to the recipient, wish them a peaceful, lucky, protected life. and protect.
If you have relatives, friends, or colleagues who are Catholic, then choose the appropriate Catholic Christmas card templates to show your respect and care for them. Below we will give you a few suggestions for beautiful Christmas card templates with such content, stay tuned!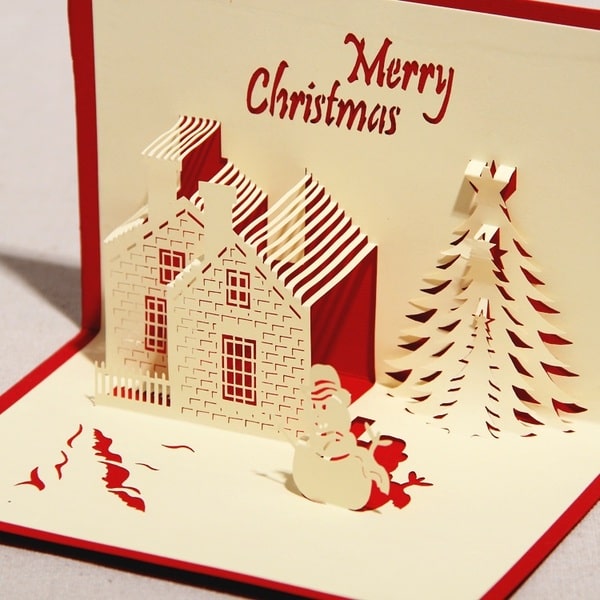 5. Where to buy 3D popup Christmas and New year card
HMG is a unit specializing in providing handmade floating card services for all kinds of holidays of the year: wedding greeting cards, New Year's greeting cards… and even heart cards.
Customers can be assured of the quality when using HMG's handmade embossed card service because the time of card printing is always shortened as much as possible, ensuring the accompanying quality.
HMG's cards are made from materials imported from countries famous for their quality such as France and Belgium, so the quality and color of the cards are always guaranteed, making customers want to use the service. Handmade floating card from HMG next time.
The cost of making handmade floating cards is cheap, applying industrial card cutting, especially for customers who order 3D printed cards in large quantities, the more they will enjoy the more incentives.
As long as customers give ideas, the HMG team is always ready to serve, contribute and apply modern technology to be able to print all kinds of cards you want, diverse in designs, sizes…
HMG with the above advantages in the 3D card industry has won a lot of love and received good feedback from customers in Hanoi in particular and customers nationwide in general.
Come to HMGPOP now to print for yourself the best quality handmade embossed cards with the best quality. HMGPOP's staff is always ready to advise and serve to satisfy customers.
Contact Info:
VIETNAM Floating Cards And Handicrafts JOINT STOCK COMPANY
Address: Cell No. 03 Lot M08 Area A, Duong Noi New Urban Area, La Khe Ward, Ha Dong District, Hanoi City
Phone: 0902123668 – 0918986889
Email: Popupcard3dvn@gmail.com/ contact@handmadegifts.com.vn