Wedding is the most important event in every person's life. Marriage invitation cards will be ordered in bulk and sent in lieu of invitations to the bride and groom's close friends. Marriage invitation cards are an important detail, so the bride and groom pay a lot of attention. However, in the process of ordering cards, many of you make basic mistakes that make the pink card not complete.
So, what should we pay attention to with the marriage invitation card? Scroll down and read our reviews below!
Spelled incorrectly
This is a taboo when ordering a card that you should not commit. You need to write the exact name of the bride and groom as well as the accompanying words that you want to write on the marriage invitation card.
After you have a sample card, you should read and review it carefully once all that is printed on the wedding card so that the card is the most perfect. In case there are any errors, please quickly contact the card printing company to promptly correct them.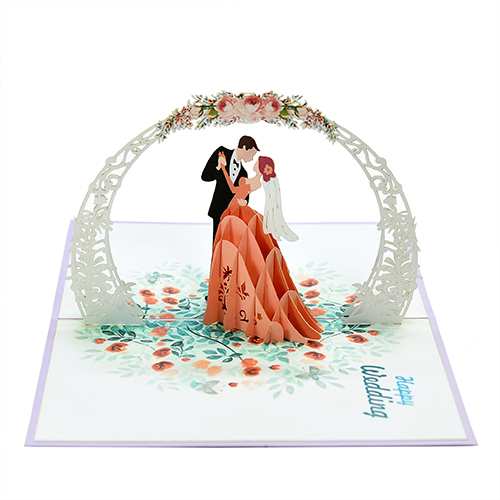 Design requirements are too picky
Many couples come to us and express their desire to make marriage invitation cards with too many details and pictures. This is not recommended at all, it will make your card become messy and lack sophistication.
You should only choose one image as the main theme and then combine a few simple details to get a very sophisticated and impressive card.
>>> XEM THÊM: Wedding card – Indispensable products for your important day
Ordered cards too quickly
As you know, the wedding card is a handmade 3D card without any mechanical process, so the time to complete a card is relatively long.
Therefore, if you intend to make a marriage invitation card, you should book it at least 1 month before the date you need to get it to have the most thorough preparation.
The rush of ordering and taking time will affect the card making process. Moreover, if there are errors or unsatisfactory things, it is also very difficult to be able to handle them in time.
Make your own decoration on the marriage invitation card
Many of you, when you get a marriage invitation card, want to decorate it yourself or buy more envelopes to leave it out. This should not be at all. Because each card made is balanced in terms of images as well as in color harmony.
If you intentionally add or subtract other details, it will make them unbalanced and lacking in aesthetics.
Set incorrect number of marriage invitation cards
You need to calculate and accurately predict the number of cards to order. Because if you put too little or too much, it will lead to situations that are difficult to handle.
Overbooking
Leads to economic as well as material waste. If you order too many wedding cards, you can't return them to the supplier, nor can you send them one more time to new guests.
Missing card order
This also affects more or less the quality of the number of additional cards. If you discover that the number of guests you have ordered is too small compared to the number of guests you have listed, please quickly contact the printing company to quickly supplement.
Marriage invitation cards are very important for both the bride and the groom and the guests. Therefore, when ordering wedding invitations, we need to keep many things in mind. Hopefully, our sharing above can help you in the process of making a marriage invitation card.