After the outbreak of the Covid pandemic caused couples to postpone their weddings, 2022 promises to be a year full of dream wedding events for domestic and foreign couples. This is also a milestone marking the establishment of a new normal in the world. Wedding activities will again become bustling with flowers filled with flowers and joyful colors that mix with the joy of the couple. To celebrate the upcoming love-filled weddings, HMG would like to send you the hottest and most popular wedding card designs that are suitable for each couple's style. In order to ensure the criterion of "beautiful cards handing, sending wholeheartedly", HMG always wants to bring customers the best choices with the best products.
1. Modern wedding invitations using wax seals
Wax seals often remind people of a retro, nostalgic wedding, taking us back to the past. However, today wax seals are cleverly used to create multiplication points in modern wedding invitations. You have the flexibility to choose a pre-designed seal or a custom-made seal to create your own style.
2. 3D Popup Wedding Card
3D wedding invitations are wedding invitations that, when opened, will display embossed shapes and textures that will impress the recipient. In 2022, many couples turn to looking for 3D popup wedding card as a gift that the bride and groom give to their dear guests. 3D pop up wedding card are classified into 2 types, which are 90 degree rendering cards and 180 degree lying cards. This type of card requires folding, including the interweaving of many small details encapsulated in a floating shape
3D wedding invitations break out of the mold of traditional wedding invitations, bring a breath of modernity, create a new and impressive feeling for the recipient thanks to the prominent small motifs on the background of the card. 3D wedding invitations require sophistication and ingenuity in production, so making a 3D wedding card becomes much more elaborate. At HMG, by applying the most advanced laser cutting machine, the most complete 3D wedding cards will be produced.
You are free to incorporate your love story into the card to make the card more beautiful and meaningful.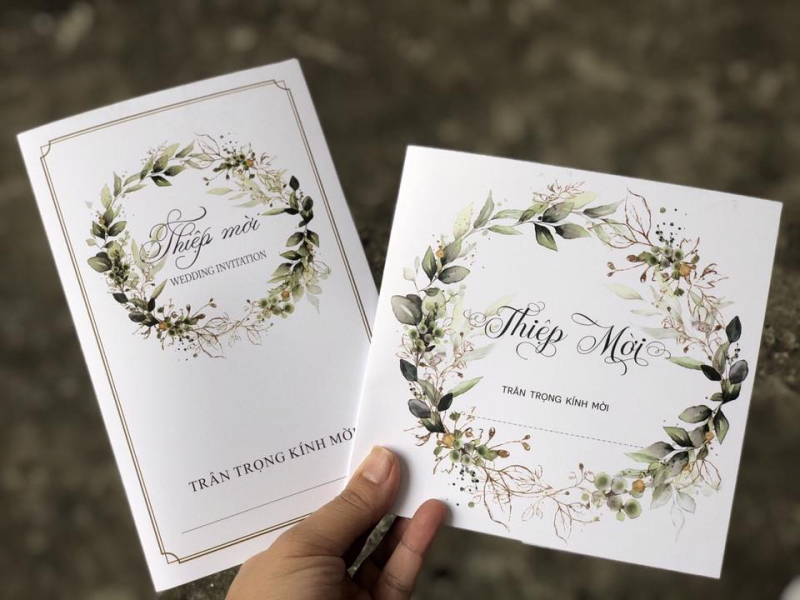 3. Prestigious 3D wedding invitation address
The wedding card is considered as an invitation to the guests with the wish that they come to celebrate with the bride and groom, so the role of the invitation card is very important. Understanding the psychology of couples about the large amount of money for wedding equipment, Hmg always has price incentives when buying 3D popup wedding cards here in large quantities. 3D card templates are often quite picky, so the paper samples used to make cards are imported by HMG from famous countries for quality such as Germany, France, Belgium… so customers can have absolutely nothing to worry about. Concerned about bad quality cards or broken cards.
By applying advanced laser cutting technology, HMG always wants to produce cards with exquisite sharpness, impressive from the outside design to every detail inside the card.
HMG wishes to be a place for couples to trust and give their full trust, helping them have the most unique and impressive wedding cards on their big day.
Contact Info
VIETNAM Floating Cards And Handicrafts JOINT STOCK COMPANY
Address: Cell No. 03 Lot M08 Area A, Duong Noi New Urban Area, La Khe Ward, Ha Dong District, Hanoi City
Phone: 0902123668 – 0918986889
Email: Popupcard3dvn@gmail.com/ contact@handmadegifts.com.vn