You don't have to wait until important holidays or special occasions to show your love and concern for your loved one. In order for each person's feelings to become more tight when there are stories, certain joys for each other, or simply a love pop flower card. Lovely cards with colorful flowers will bring a lot of joy and meaning. Let's find out what these love pop flower cards are interesting. Read our article below to learn more about it!
The meaning of love pop flower cards
The colorful flowers are always loved by many people. It represents intense vitality and happiness in this life. The flowers are gifts of nature and help curl people to show love for each other. It can be said, no one is not in love with flowers. Each flower has its own meaning and they all bring about good things.
Flowers are like strong love. With that in mind, we created awesome love pop flower cards. You can give them to someone you love to celebrate your love on Valentine's Day or wedding anniversary. Or simply a love pop flower card with sunflower flowers, with intense vitality and enthusiasm. 
Just add a few lines of your handwritten notes and these cards make a great gift! No need for any special occasion, just a word of love, you can give it to the person you love everyday. 
Plus, if you are a flower lover and don't want to see the fresh flowers wilt, choose some love pop flower cards for yourself. You just need to keep these pop cards to yourself and adorn your workspace. You don't need to constantly change fresh flowers in your room. Love pop flower cards with a variety of colors and designs will bring you joy. It is not only beautiful looking, but also very durable and of good quality!
Some love pop flower cards you should buy
Vase of rose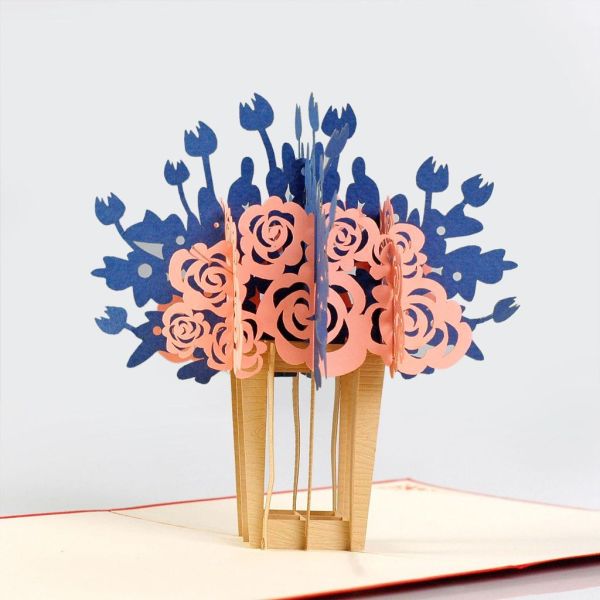 The rose is the flower of love, the most beautiful flower in love. Every loving couple they want to give the person they love a rose.
This is a bouquet of roses with many meanings that fully express the feelings for the recipient. Each rose represents kiss, the rose represents a happy loving bracelet. Thereby, we can also convey to friends who are in difficulty that we should strive to face, overcome illness and be strong. Our love pop flower card is designed with utter sophistication, with a highly qualified design department and staff. Every design that we make is guaranteed to be quality and unique. 
Cactus Flower
Cactus flowers, flowers blooming amidst the barren and drought desert. Amidst the harsh conditions, it was still beautiful and splendid. It shone in the dark despite many difficulties. This is really a unique and meaningful love pop flower card. Give it to the people you love. It will be a new source of energy, energizing them. A flower proud in the midst of many difficulties, rising non-stop. 
Love pop flower card is both a meaningful gift and can help cheer the recipient up. Use love pop flowers to show love to those you love.