Weddings are considered the most important event in the life of every person. The wedding cards will be ordered in large quantities and sent instead of invitations to close friends of the couple. Wedding popup card is considered an important detail, so the bride and groom pay a lot of attention. However, in the process of ordering a card, many of you make basic mistakes that make the pink card not complete. Some of the notes below will be the information you need to know to get the best product.
Do not make too sophisticated design requirements
Many couples, when coming to places to order Wedding popup card, express their desire to make wedding cards with too many details and images. This is not recommended at all, it will make your card become messy and lack sophistication.
You should only choose one image as the main theme and then combine a few simple details to have a very delicate and impressive card. This will also help you save a part of the cost of ordering cards when removing the fussy details.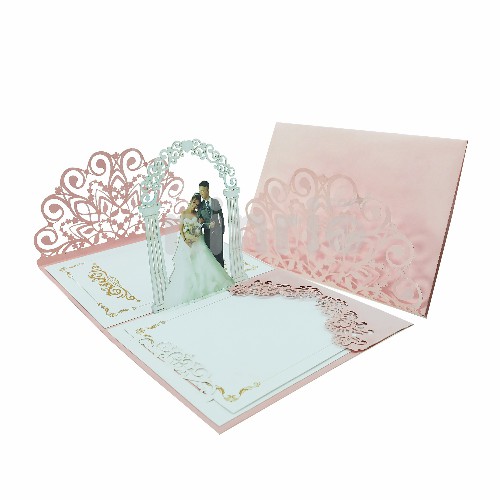 Be careful to avoid typos
Many people have encountered spelling mistakes right on the card. This is a taboo when ordering cards that you should not commit. You need to write the exact name of the bride and groom as well as the accompanying words that you want to write on the wedding card.
After you have a sample card, you should read and carefully review all that is printed on the wedding card to make the card the most perfect. In case there are any errors, please quickly contact the address to make the card for timely correction. The misspelling when sending the wedding popup card to everyone will lead to the recipient misreading the information.
Not preparing to order a wedding popup card early
As everyone knows, wedding popup card is handmade without any mechanical process, so the time to complete a card is relatively long.
Therefore, if you intend to make a popup card at any address, you should book at least 1 month before the date you need to get it so that they have the most thorough preparation. The rush to order and pick up time will affect the card making process. Moreover, if there are mistakes or unsatisfactory things, it is also very difficult to be able to handle them in time.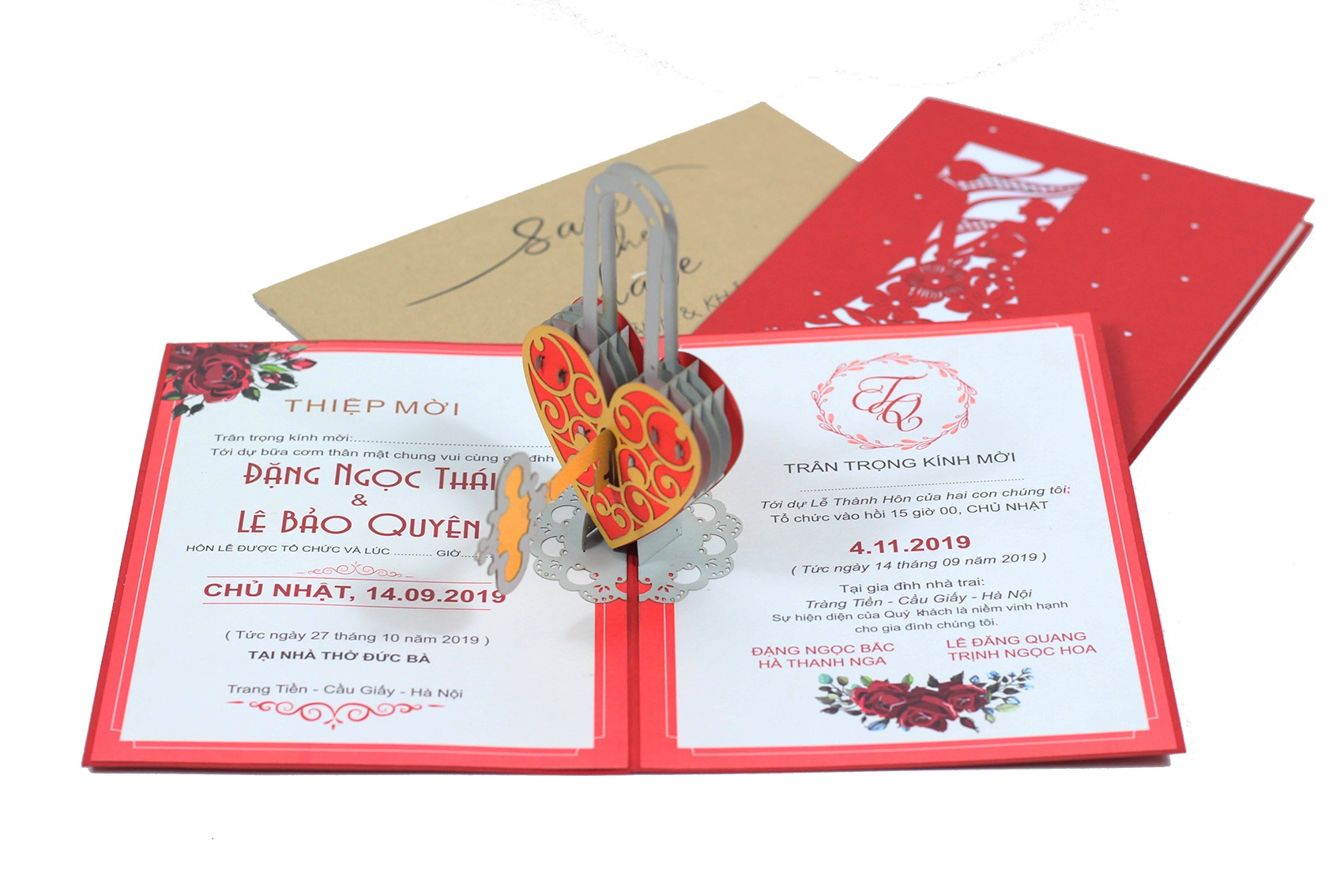 Where should you put the wedding popup card?
For those who are passionate about 3D Handmade card templates, surely the brand VIETNAM POPUP CARD AND HANDICRAFTS, JSC is no longer strange. Because this is a famous brand in Vietnam in the field of popup card design and handicrafts.
Since its inception, HMGPOP has launched many beautiful product models with increasingly high quality, most notably the 3D skin-themed card line. In particular, the company's wedding popup card model is considered to be an outstanding product line that has conquered many fastidious customers at home and abroad because of its uniqueness, creativity, and eye-catching viewers.
In 2021, the company continues to launch many 3D wedding invitation templates that are ahead of the beautiful card trend of the year for customers to choose from. If you are looking to learn and order a Wedding popup card, you should not ignore VIETNAM POPUP CARD AND HANDICRAFTS, JSC.